London Male Escorts Feature Photo
Portrait photos do not work well as front page feature photos.
They will look like the Original Photo in the image =>
To get the best results, we suggest you edit your photo below.
The Front Page Feature Photo Template is 3 Wide x 2 High
Easily edit any of your photos to size below.
*Includes IPhone & IPad Photo Editor Apps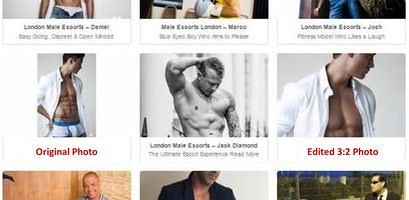 Easily Edit Your Photo to Size Here
Step 1. Click https://croppola.com/ to open photo editor.
Step 2. Locate and open your photo in the editor.
Step 3. Scroll down screen so you can see the Aspect Ratio box.
Step 4. Click on 3:2 in Aspect Ratio box.
Step 5. Position and Size the crop box.
– Click, hold and drag frame of box to enlarge or reduce.
– Click, hold and drag inside box to re-position.
Step 6. Once happy, click the Download this crop button.
Step 7. Upload your new Feature Photo from your device below.
Watch the video on the right to see the steps in action ……………
How to crop your photo with MS Windows or Mac OS
Having trouble with the online editor?
Don't worry you can use the paint package built into either your MS Windows or Apple Mac computer.
Watch the appropriate video and just remember to crop your new image to a ratio of 3 units wide to every 2 units high.
Example cropping areas: 300 wide x 200 high, 600 wide x 400 high, 900 wide x 600 high, 150 wide x 100 high etc
Crop Your Photo with MS Windows
Crop Your Photo using Mac OS
Photo Editing Service
Still having trouble editing your photo?
We can help at a cost of £15.00 per photo, just let us know what you would like done.
Disclaimer
Sydney Male Escorts does not warrant or provide any support for the third party applications that appear on this page. However we would like you to inform us if there are any problems with the links, thank you.